The University of Debrecen and Vasile Goldis University of Arad developed a new herbal medicine.

The University of Debrecen and the Vasile Goldis University of Arad have made an agreement. The agreement, which was signed 29 November, facilitates the two universities' cooperative pharmaceutical research and the marketing of the new medicine.
Within the framework of a cross-border cooperation the two universities have developed a new medicine. The scientists have been examined the hepatoprotective effects of Silybum marianum (Milk thistle) and developed a new formula was implemented in recent years.
The collaboration was realized in 2010 by the Hungary-Romania Cross-border Cooperation Programme. In the first phase, Milk Thistle was collected in the surroundings of Arad and its ingredients were tested. This was followed by the encapsulation and absorption study, then – as the last phase of the research – hepatoprotetive effects of the capsules were tested on a variety of experimental models. The new medicine is regarded as an intellectual property of the University of Debrecen and of Vasile Goldis University.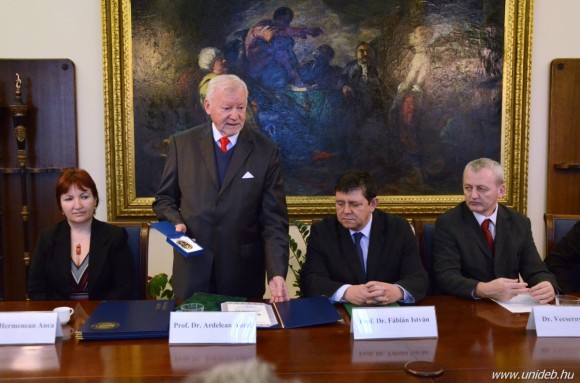 The research was carried out by more than 20 professors of the universities. Besides them many graduate and undergraduate students took part in the work, and wrote dissertations, theses and scientific papers on the topic. Although the effects this herb is an intensively researched area, an entirely new pharmaceutical formula was discovered. The medicine is expected to be in pharmacies within 3-5 years due to the long process of patent specifications.
Source: unideb.hu