You can taste three new dishes that have never been in the city center this week-end: meat-jelly speciality with fish, delicious soup with new tastes and stuffed cabbage served in a special way.

One of the most popular gastronomical program will take place on the last day of this week. Barabas Restaurant's cooks are cooking for the fifth time on Sunday before Christmas.
'We would like to give people ideas on how varied dishes can be prepared with fish besides it is very healthy' said Zoltán Barabas on Wednesday, 15 of December.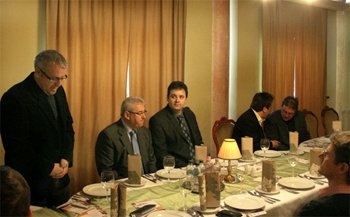 Not only carp is available at fish-market. 2500 portions are going to be served, of which approximately 500 portions will be fish-soup this year.
5 quintal fish will be cooked. There will not be any smoked fish this year as it was not so popular last year. Yet, three new dishes are going to be served instead: sour fish-soup with potato-balls, stuffed cabbage with fish and fish-jelly. Dinner will be served from 10 a.m. till 7 p.m. and even later if it is necessary. In the meantime dance and music programmes will be on stage.
Guests can taste not only delicious dishes but buy fish to prepare it at home as well.
On the other hand, needy people will be guests at New City Council Restaurant on Monday.