By January 31 two applications were submitted to the post of the rector of the University of Debrecen: that of Attila Peth? and István Fábián.

Professor István Fábián is currently president of the Centre of Arts, Humanities and Sciences, vice rector and head of the Department of Inorganic and Analytical Chemistry.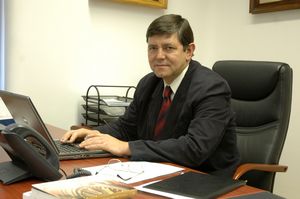 Professor Attila Peth? acts as dean of the Faculty of Informatics and head of the Department of Computer Science. (Both applications are available at www.unideb.hu / Special pages.)
The applicants presented their programmes at the Forum of March 25 in the Aula of the University. The quality of the master and phd programmes, the researches and the widening of the English programes are important for both of them.
Attila Peth? would like the bike-road to be built between the campuses of Kassai street and Egyetem tér. Both of them agree on the renewing of the Chemistry and Technical Faculty buildings.
After the Forum, but before the session of the Senate, the councils of the centres will deliver an opinion on the applications and the applicants' competence. The Senate of the university will elect the new rector on April 8 by secret ballot. László Fésüs will continue to act as rector until June 30, and the new rector will assume his office in July 1.